This week 3D and K# got together for a buddy meeting. This time things were a bit different than a normal buddy visit because our 3rd graders were the teachers! Over the past few weeks students in 3D, along with the other third grade classes, have gotten familiar with the iPad and have been using it to take weekly reading assessments!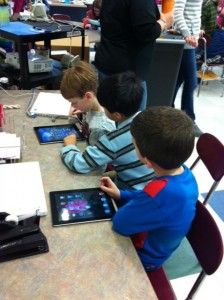 The excitement about using iPads for teaching and learning is growing and the kids in K3 wanted to get in on all of the possibilities. Mrs. Dahlheimer and Mrs. Marzullo coordinated a lesson in which the third graders would help their kindergarten buddies get familiar with the iPads and applications. Through the lesson, 3rd graders taught kindergartners basic orientation to the devices (holding it, turning it on, using the home button, volume controls, and opening/closing apps. From there they explored different learning apps on the devices and they had a great time doing so.
Check out this quick video of their work together!